MOTORHOME HITCHES
Motorhomes have become almost a necessity amongst racers, and with good reason. Or at the very least, a number of good reasons. However, there's one area that needs to be addressed, and that is the trailer hitch department.
Most every motorhome sold has, what's termed as a class 3 hitch on it. This is the common receiver type hitch that utilizes a drawbar that slides in and can tow a number of different things. This hitch is designed and bolted (and in some cases, just riveted) to the rear frame section so that you can safely hook up a tow bar or a light trailer to it, and the keyword here is "light". Forget about hooking up your new 30 foot trailer to it, complete with two cars inside. You might get away with it once or twice, but rest assured, I'll never follow behind you anywhere. Most of these hitches are fabricated from lightweight materials that will not handle the rigors of a thousand pounds of tongue weight combined with the fine American highway system we travel.
What's needed is a completely redesigned trailer hitch that will handle the weights we carry and in addition, here at DRC, we construct the hitch to become an integral part of the rear frame section. This isn't just an installation, it's a complete make over. Definitely not your $29.95 trailer hitch installation. We don't just "beef up" what you've already got there. We custom build, from scratch, every part of the hitch, using heavy-wall material for the utmost in strength. Now of course, like anything else, you usually get what you pay for. And in this case, what you'll get is a hitch that you can hook up to and forget about the worry that someday you'll see your trailer pass you up on the highway. There are also a couple of little "design extras" that we add in, such bushing the hitch pin hole to stop elongation there, that will keep you towing away without concern.
The below illustrations should give you a better idea of just what's happening when it comes to towing a heavy trailer with your new investment.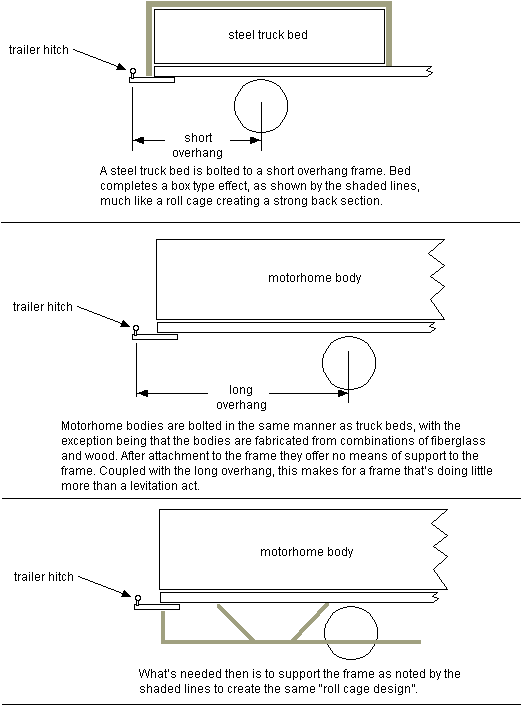 If all of this scares you into thinking that maybe a motorhome isn't the ideal tow vehicle, than maybe your thinking is correct. But, when it's 95 degrees outside, or your hungry and want to eat some "real" food, you'll come to realize that a motorhome offers you the best of both worlds. But only after you've installed a new trailer hitch from DRC. Pricing for each hitch is almost always totally different depending on the style of motorhome, frame, frame tank configurations, etc. Call or e-mail us for more info.